This is one of my favourite days out I've ever done. Definitely Top 10 (please don't ask me to actually make the list. It's more of a hypothetical list than a real thing). It was one of those days where the weather is perfect for what you're doing, and what you're doing would be pretty great even done in the rain (well ...).
After our successful trip to
Rhosilli Bay
, Chris and I decided to continue exploring what South Wales has to offer. He'd heard about a waterfall trail in the Brecon Beacons and I loved the idea, so on a gloriously warm sunny day (this was summer last year, I should add!) we set off in search of a watery adventure.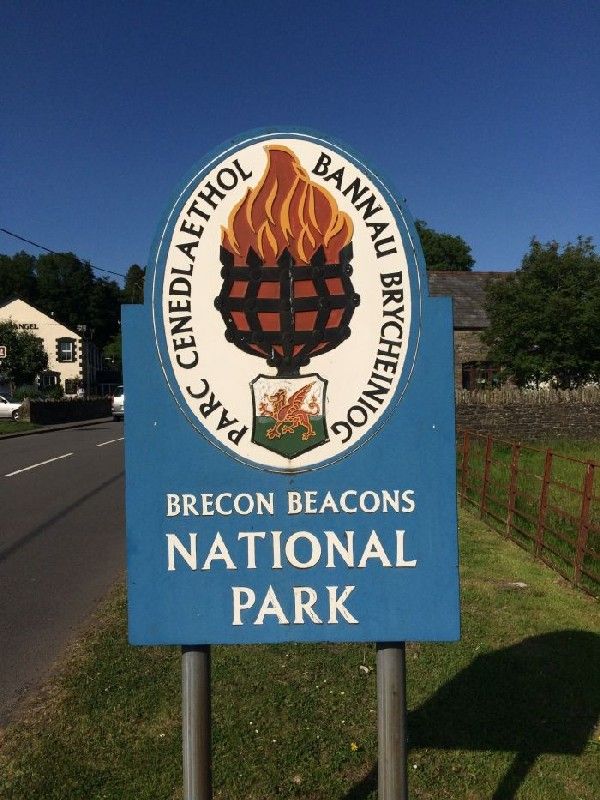 We managed to find the car park with a visitors centre more easily than anticipated, which is always a good start. Although it was hot, I put on my wellies because I try to take any excuse to wear them that I can. It turned out to be an excellent idea. Chris only had trainers on and they were very very wet by the end of our expedition!
Before we even came to any waterfalls we found an area of river with water low enough to just wade through, and climb over rocks. We spent a while there walking along taking photos before we realised we should probably find a waterfall!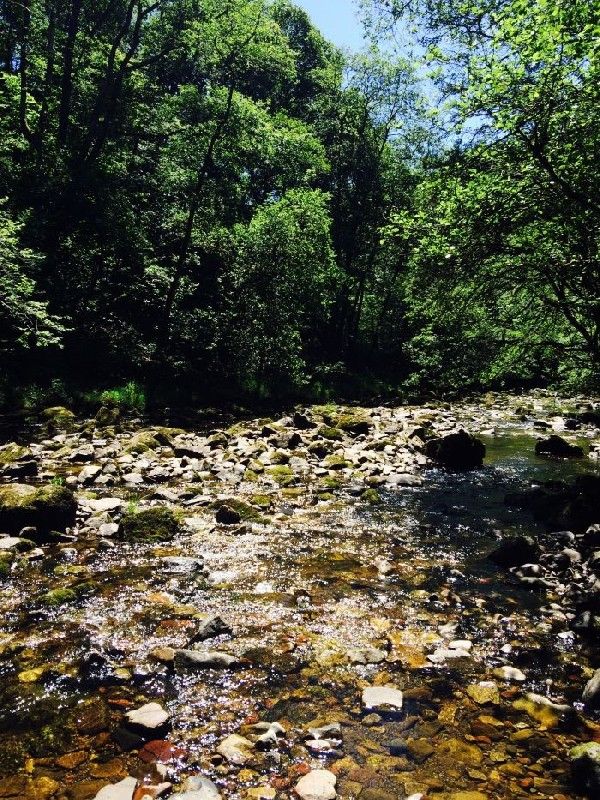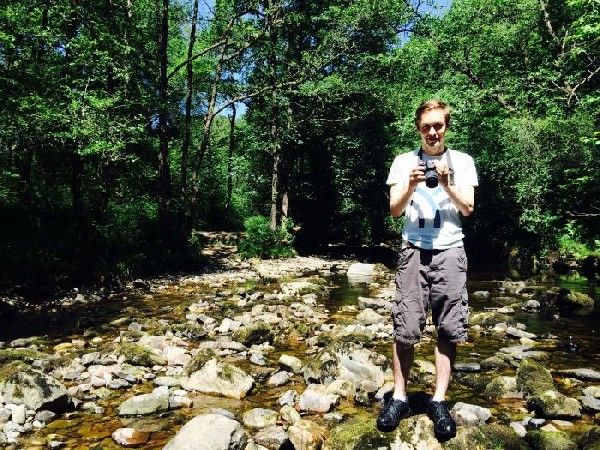 The first waterfall that we came across was a fantastic tall thin one that cascaded from a rock above, which we later went onto. This waterfall had a path that ran behind it so of course we had to go along the path and get soaked. The water was so cold that it was literally breath-taking! It was such an exhilarating and fun experience. You always see pictures of people going through waterfalls in exotic locations, but that we could do it here in South Wales somehow added an extra thrill and pleasure to the experience.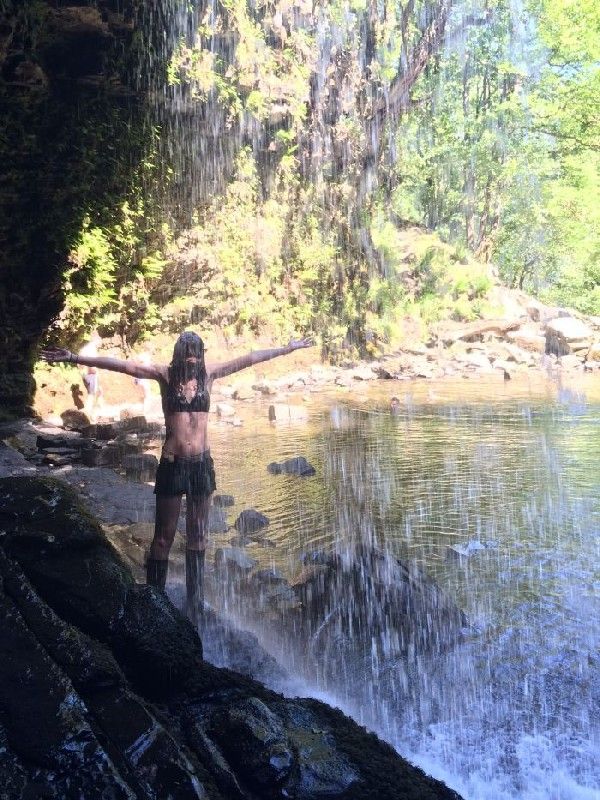 Chris decided to swim from the waterfall back to the path, but I stuck to dry(ish) land!
We passed several more waterfalls along the trail - some of them large and plummeting down below us, while others came from above and crashed down onto the river that we were walking alongside. It hadn't rained for quite a while so we were able to walk along the river in several places.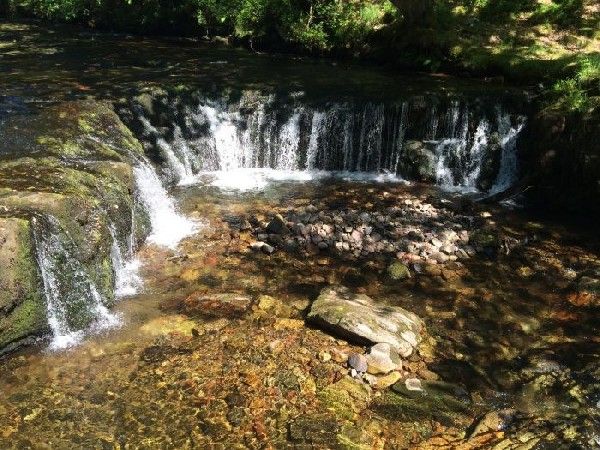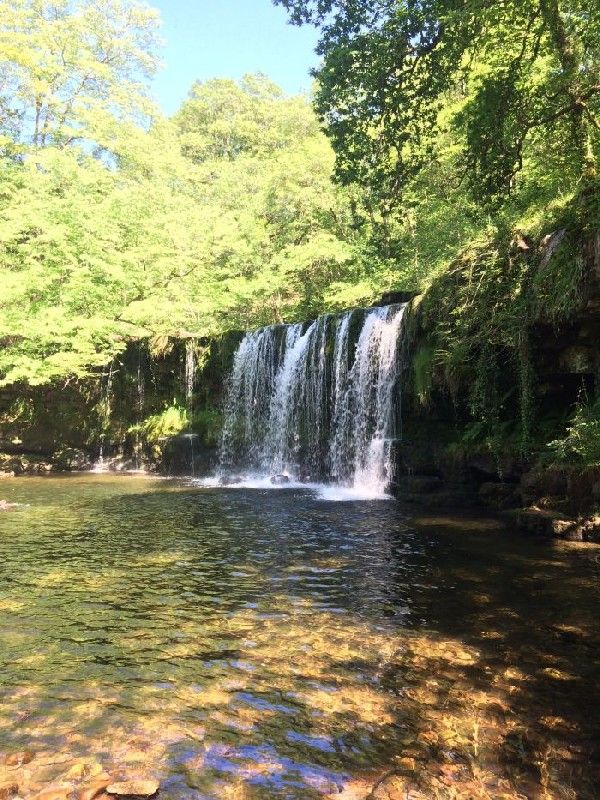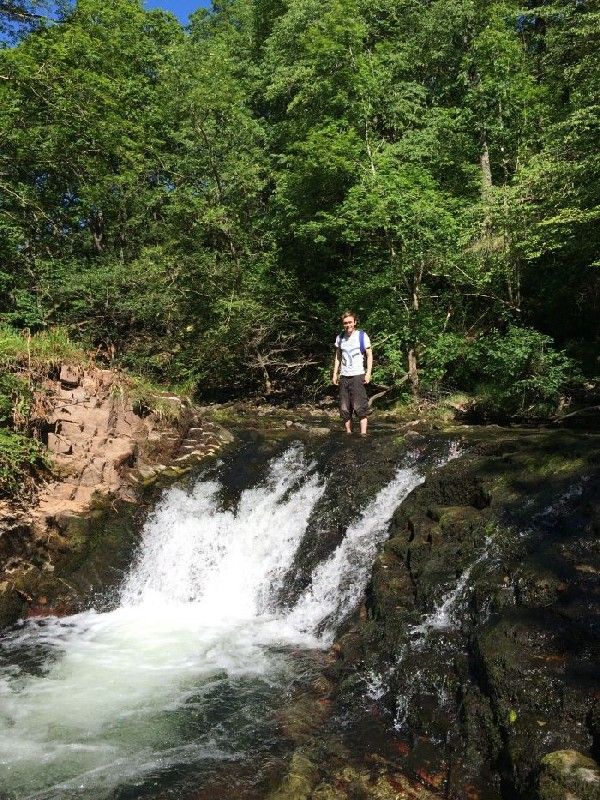 At one point Chris decided to push me, just lightly, but I slipped and ended up far deeper in the water. The rocks beneath were slippery so I flailed about for what felt like ages while I shouted at Chris to pull my bag out of the water so that my phone didn't get damaged! Eventually I managed to regain my balance and pull myself up and out of the water - with a bleeding knee and wellies filled with water. Once I'd ascertained that my phone was fine I was able to laugh about the situation - but only once I'd seen that my phone was alive! I actually still have the scar on my knee as a memento of the day. Thanks Chris.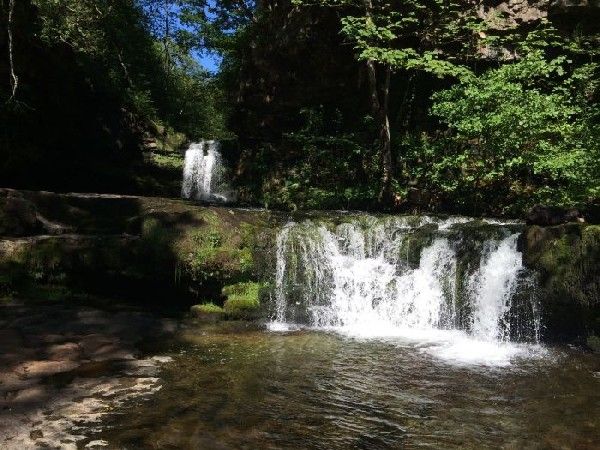 Interested in visiting Pontneddfechan and doing the waterfalls trail? The best place to start is the
Brecon Beacons Waterfalls Centre
- the car park for the centre doubles as the one for the trail, and the centre provides some information about how waterfalls form, as well as maps of the area. And of course, there's the all important toilets just across the road as well!